LCHS engages contractors to provide goods or services through agreement as part of its ongoing business operations. This policy aims to ensure LCHS' expectations and management of contractors is handled legally, ethically and in a transparent manner for all parties.
This policy relates to all contractors engaged to provide goods and or services such as facilities maintenance and management, service agreements, clinical contractors and contractors providing direct services to our clients.
LCHS contractors shall be considered to be agents of LCHS and therefore required to comply with LCHS' relevant policies and procedures. A breach of these policies may result in disciplinary action as specified in this policy and other relevant policies and procedures.
Contracts between LCHS and suppliers of goods and services shall be used and actively managed to minimise risk, and ensure best value to the organisation.
LCHS shall:
Maintain standard LCHS contract documentation.
Sign and execute contracts within the delegation of authority.
Meet legislative and / or funding body requirements.
Administer all contracts within the following categories:

Organisational Contracts
Brokerage Contracts
Property Leases
Other contracts, e.g. property.

Negotiate contracts within the following categories:

Funding and Service Agreements
Purchase Contracts
Provision Contracts
Other contracts.

Actively manage contracts through regular compliance monitoring, review and reporting.
Evaluate contractual issues as per the Risk Management Policy and Risk Management Procedure.
Ensure contracts detail service provider Code of Conduct and modern slavery expectations.
Contract management responsibilities
Privacy and communications
Portt
LCHS has a fully electronic contract management system, called 'Portt'.
The Portt 'Hub' allows us to effectively communicate and interact with our contractors. Insurances, certifications, credentials and compliance checks can be uploaded by contractors,as well as writing notes and sharing other information. Contractors retain full access and permissions to their documents in the Hub throughout our relationship.
LCHS shall share contracts, agreements and other information through the Hub. LCHS electronically signs and executes all contracts and agreements through the Hub.
When you engage with us, you'll receive a welcome email from Portt:
Contractors can expect to receive information and emails from Portt, as below: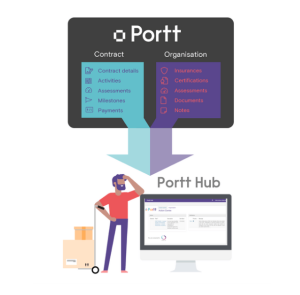 Privacy and use of information
LCHS collects, stores, protects, uses and discloses contractor information as per its Privacy and Management of Information policy, available on LCHS' website, and within relevant legislative requirements.
We are bound by law to protect and respect the confidential nature of the personal and health information we collect while providing services. We are also bound to protect your information, as contractors.
We can protect our consumers' privacy by:
Having conversations about consumers in a private space, and with consideration of others ability to hear and gain information
Keeping concise, factual records of our consumers
Ensuring all consumer information is kept in a confidential manner
Only disclose information when we have consent to do so, or when it's required by law.
Please ensure you respect the privacy of our staff and clients, and let us know if you become aware of any breaches of privacy by completing an incident report form so we can take action to reduce the risk of harm.
Please also note we shall only disclose information regarding our contractors when required to do so by law. You can read our privacy policy here.
Occupational health and safety
We are committed to ensuring you are safe when delivering services to our consumers. Please report any incidents where you may have been harmed, or have a near miss that could have caused harm, such as:
Manual handling
Aggression or violence towards yourself or others
Hazards or unsafe work environment
Email us a completed incident report form so we can put measures into place to reduce the risk of harm.
Code of Conduct
Latrobe Community Health Service (LCHS) is committed to delivering services that improve the health and social wellbeing of Australians, and working towards our vision of better health, better lifestyles, stronger communities.
At LCHS we are committed to:
Promoting the safety and well-being of all children and young people accessing our services
Promoting the safety and well-being of all people with a disability accessing our services
Not tolerating any form of discrimination or abuse and acting on all reported cases of abuse or suspected abuse
Respecting, recognising and valuing the diversity of people and cultures
Educating our staff, students, volunteers and contractors in the correct application of the LCHS code of conduct and related policies and procedures
 All contractors shall familiarise themselves with, commit to, and act in accordance with the LCHS Code of Conduct and any code of conduct relative to their profession or LCHS funding bodies and regulators.
Conflict of interest
A conflict of interest is a situation where there is, there's potential for, or there's a perception that private interests may conflict with your duties as a contractor or brokered provider for LCHS, such as providing services to direct family members.
If you have, or think you may have a conflict of interest, please email ba@lchs.com.au (for brokered providers), or contracts@lchs.com.au to allow a review to occur, and strategies put into place to mitigate the conflict.
Invoicing
Invoices need to be submitted to accounts.finance@lchs.com.au within 7 days following the month of service.
Please do not alter or provide a service without written agreement by LCHS representative.
Our payment terms are 30 days from receipt of invoice. However we endeavour to get you paid sooner. Ensuring invoices reflect service requests will ensure there are no delays processing your invoices.
Brokerage
LCHS delivers Home Care Packages Program, and Commonwealth Home Support Programmes as part of the Australian Government's continuum of care for older Australians.
All brokered providers shall work within requirements of the LCHS Contract Management Policy, and in addition, within regulatory requirements of these programs including:
Further documentation
Legislation, regulation and standards
Aged Care Act 1997
Accountability Principles 2014
Health Records Act 2001
Occupational Health and Safety Act 2004 (Vic)
Occupational Health and Safety Act 1991 (Cwlth)
Privacy Act 1988
Child Safe Standards
Australian Immunisation Handbook
Policies and procedures
Contract management policy
Contractor management policy
Child Safe Policy
OHS Policy
Privacy and Management of Information Policy
LCHS Code of Conduct
LCHS Code of Conduct for Aged Care
Incident management manual
Risk management policy
 For all other contractors