At least that's what his daughter Narelle said when we spoke to her about her experiences with our home care package service.
Coming from a farming background, Arthur is still living independently on the farm, tending to his sheep and nurturing the orchard he proudly grew from seedlings.
However his mobility and health have presented challenges for maintaining his independence.
When Arthur's wife Margaret passed away in 2020, his care fell to his adult daughters, Narelle and Michelle.
"My sister and I quickly realised we needed some help looking after dad when mum passed away. We became his primary carers as he had no driver's license and relied on us for everything," says Narelle.
"We cooked, cleaned and provided all his meals. We took him grocery shopping, and to doctors' appointments as well as tending to his washing."
"Then I became sick, so he agreed we needed some extra help for our health and sanity and his stomach," says Narelle.
"A Home Care Package has helped dad to be able to stay at home, which he greatly appreciates," says Narelle.
"He has a lovely support worker who attends every Friday. She cooks all his weekend meals and washes his clothing and bedding. He has some personal care to assist with showering, a gardener, cleaner and a lady who takes him for a drive once a fortnight. He enjoys this as he loves a chat. All of this has taken the pressure off our family."
"We have found everyone who tends to dad to be considerate. He can be hard work – not that he thinks so!"
"We would not hesitate to recommend a home care package to anyone who has a parent that is elderly or has limited mobility."
"Ask for help, even if your loved one doesn't think they need it. We have appreciated the help and support from Latrobe Community Health Service as it has not only benefited dad, but our whole family."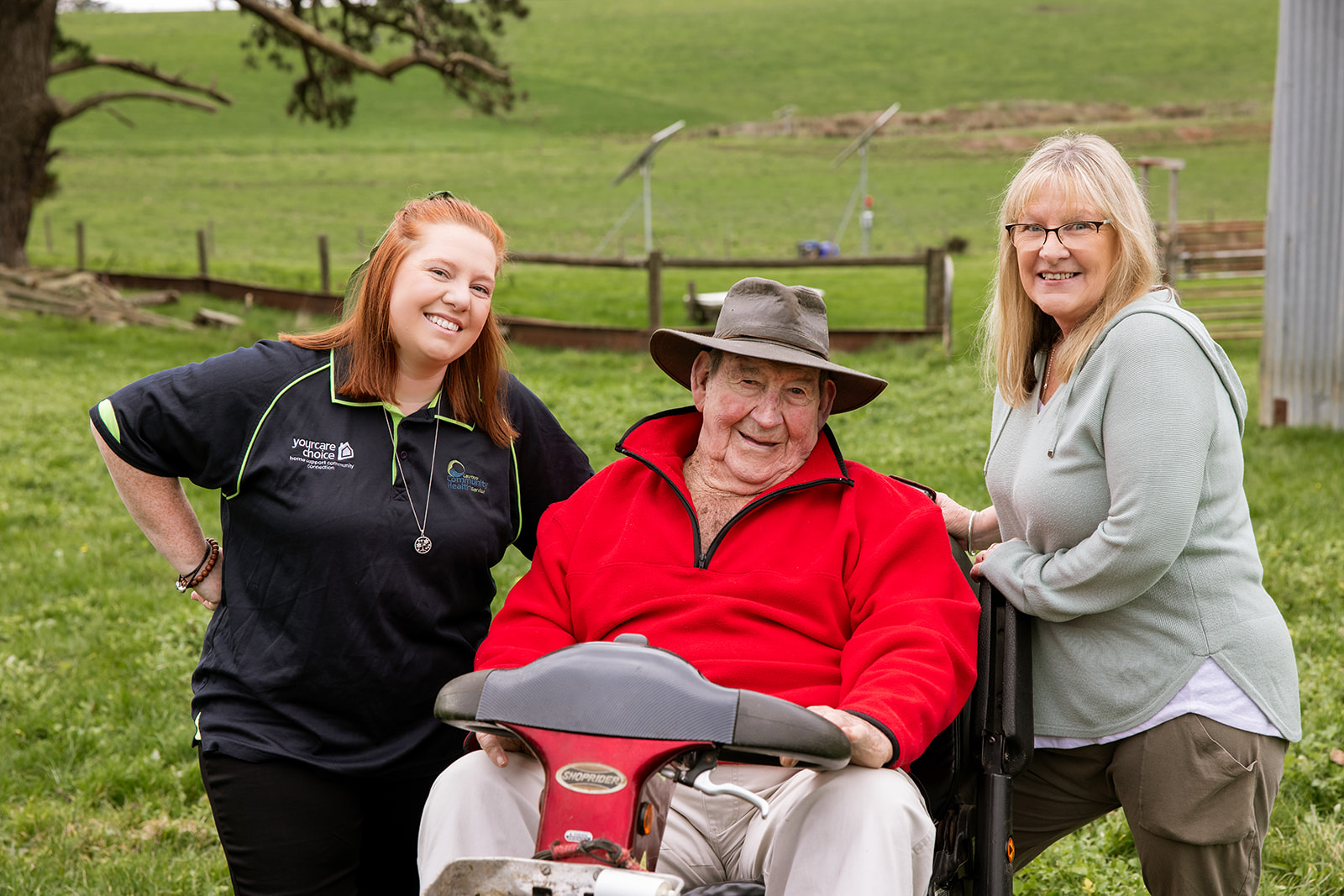 To families out there navigating the challenges of caring for elderly loved ones, Narelle's experience is a testament to seeking help when it's needed most. We love seeing how our work is benefiting families like Arthur and Narelle's.
If you'd like to have a chat about getting your parents some help at home, give us a call on 1800 242 696. Alternatively, fill out the form below.
Don't call us – we'll call you!
Submit your details, and we'll give you a call when it's convenient for you. Of course, you can always call us on 1800 242 696.