Providing an inclusive service
At Latrobe Community Health Service, we're committed to providing an inclusive service for clients who identify as Lesbian, Gay, Bisexual, Transgender and Intersex (LGBTI).
Similarly, we want LGBTI staff to feel fully included in their workplace.
We are undertaking an organisation-wide review of how inclusive our day-to-day practices are. This involves educating and training staff, and reviewing our policy framework.
It also involves engaging the community.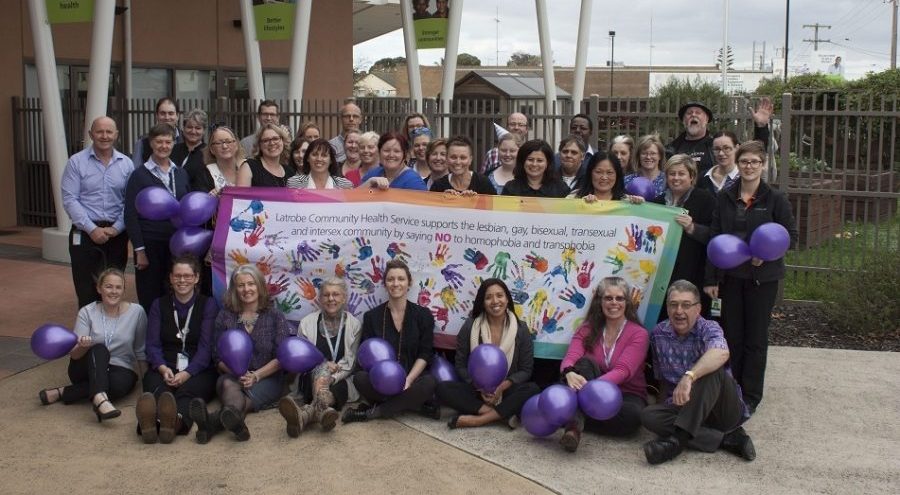 Ultimately, we are aiming to achieve the national LGBTI-inclusive workplace standards. In doing so, Latrobe Community Health Service will be better placed to provide safe and inclusive services to clients who identify as LGBTI, and provide a safe and inclusive work environment for staff who identify as LGBTI.
Latrobe Community Health Services celebrates the International Day Against Homophobia, Biphobia, Intersexism and Transphobia every year on 17 May. Find out more about why we've made this commitment here.
Additional resources
Support resources for the LGBTI community
Out & About Community Visitor Scheme (Switchboard)
Out & About is a volunteer based visiting program for older people who identify as lesbian, gay, bisexual, transgender or intersex (LGBTI), and whose quality of life would be improved by friendship. Our Out & About volunteers visit people in their homes on a regular basis to talk, play card games, watch a movie, go for a walk or any other enjoyable social activity. Click here for more information.
Contact a Gay & Lesbian Liaison Officer (GLLO)
Victoria Police GLLO provide support for the Gay, Lesbian, Bi-Sexual, Transgender and Intersex Community. GLLO's can assist by providing discrete, non-judgmental advice and assistance in reporting crimes.
In an emergency you should always call police on 000. You can also seek advice by speaking to any police person at any police station or if you prefer you can contact a GLLO.