We spoke with our Health Promotion team to find out their favourite tips for eating well on a budget. It all starts with planning ahead, and staying smart while perusing the supermarket aisles.
Here's our guide to budget shopping:
First things first, understand what 'healthy eating' is:
The Australian Guide to Healthy Eating recommends eating a variety of foods from the core food groups. Every day, you should be eating:
Plenty of vegetables, beans and legumes
Fruit
Grain (cereal) foods like high fibre cereals, breads, rice, pasta, noodles
Lean meats and poultry, fish, eggs, tofu, nuts and seeds
Low or reduced fat milk, yoghurt, cheese and alternatives
And, don't forget your water!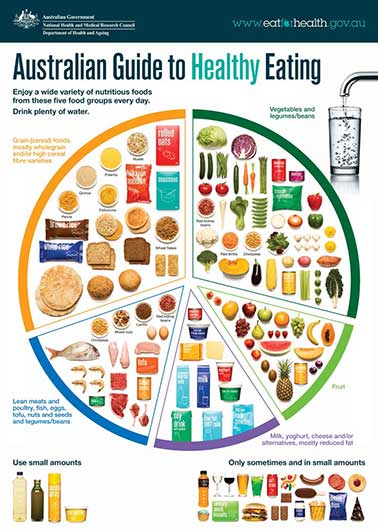 Is it possible to eat healthily while shopping on a budget?
Research shows healthy eating can be good for our hip pocket as well as for our bodies.
The Healthy Diets ASAP (Australian Standardised Affordability and Pricing) study compared the cost of 'healthy' versus 'unhealthy' diets in Australia. Researchers looked at the price of the recommended healthy diet (in line with the Australian Dietary Guidelines) against a common diet for Australians, using data from the Australian Health Survey 2011-12.
The study found that for a family of two adults and two children, the recommended healthy diet is 12-15 percent cheaper than what most of us are eating.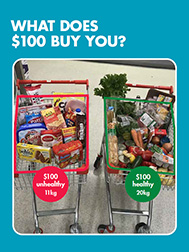 Source:  Livelighter
Let's put this research into practice!
Budget shopping: Step one
Before heading to the shops:
Shop from your fridge, freezer and pantry first
Plan your meals
Write your list – and stick to it!
Budget shopping: step two
At the shops:
Avoid shopping when hungry
Use unit prices to find the best value for money
Buy generic or home brands
Buy in-season fruits and vegetables. They taste great and are usually cheaper than other, imported stock.
Buy frozen and canned fruits and vegetables. These are cheap, convenient and last a long time – and have the same nutritional benefits as fresh produce!
Budget shopping: step three
Cooking at home:  
Try meat-free Mondays
Bulk up meals with legumes – they are filling, and affordable!
Freeze your leftovers for a day you don't feel like cooking. This is much cheaper (and healthier) than most takeaway options.
Snack smarter. Fruit and veg are so much cheaper than packaged snacks. Oranges cost you $4 a kilo. Potato chips cost you $30 a kilo, and have a fair bit of salt and oil in each serve.
So, that's our guide to budget shopping. If you want more tips, head to LiveLighter or follow our Facebook page where we often post tips for families who want to lead healthy lifestyles.