While close to her adult children, they all lived too far away to help Dorothy regularly. But today she is living a very independent and happy life at home, thanks to her Home Care Package from Latrobe Community Health Service.
"I had friends who had packages and they suggested I apply for my own," says Dorothy.
"I called [LCHS] immediately and they were great. My Care Advisor Jodie is very supportive, and I trust her wholeheartedly. She helps me navigate my home care package and get the most out of it.
"I originally thought I'd just get a bit of help with the cleaning, but it's so much more."
Through her package, Dorothy had rails installed in her home, receives cleaning and lawn mowing, podiatry visits, 'Lite n' Easy' meals, and much more.
"It was a little tricky to adjust at first. I didn't know what to do with myself when the cleaner came, so I went and hid while they worked. Now I've gotten to know them, I can sit and relax knowing I'm getting the help I need.
"I'm a very independent person, probably a little too independent for my own good. But having the package allows my kids to feel comfortable knowing I'm supported, especially because they can't keep a physical eye on me."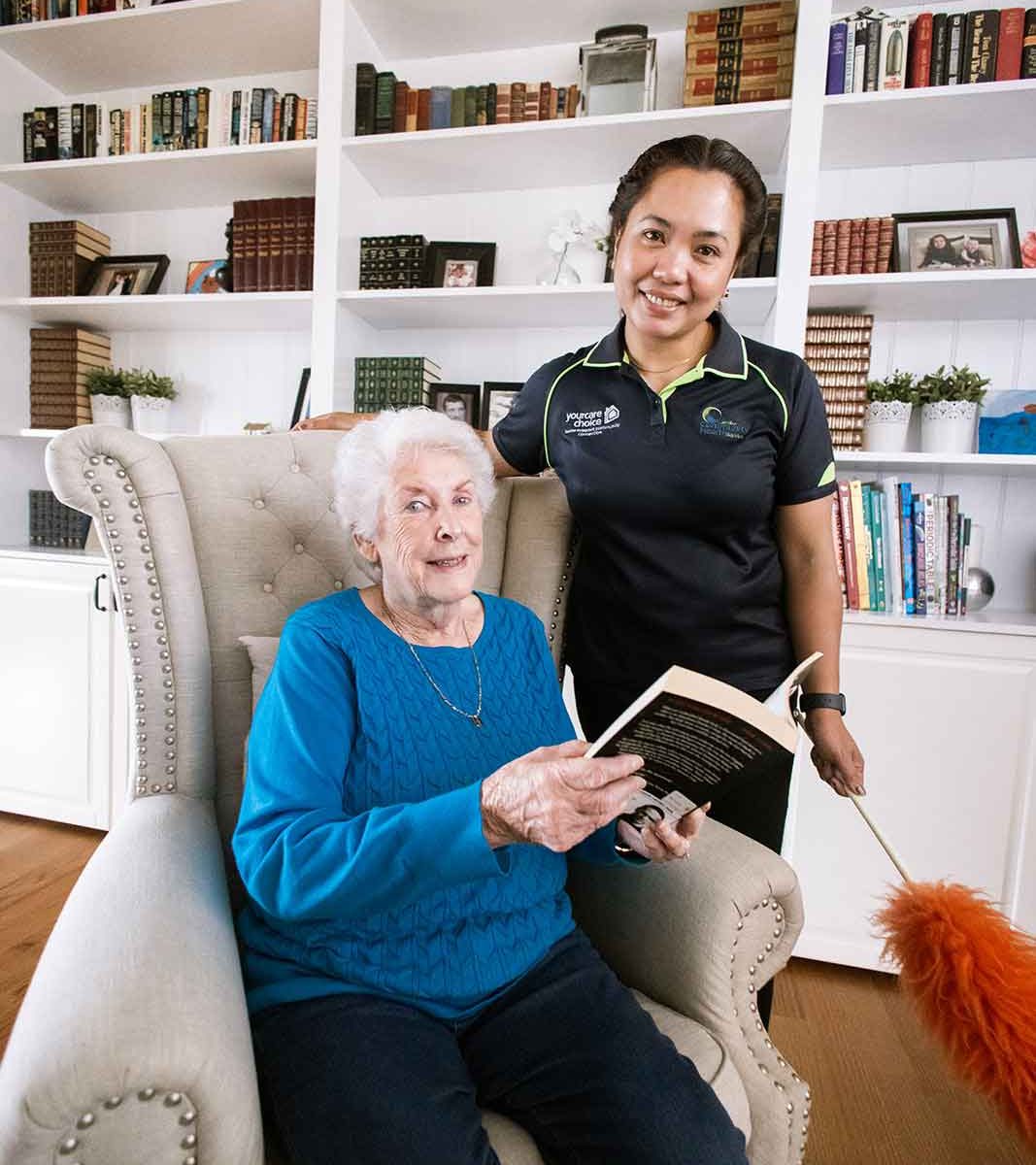 In her working years, Dorothy was a personal assistant and was in charge of the typing pool. She had a keen interest in technology and gadgets, a passion undiminished with age.
"I just love gadgets and learning new things. It keeps me mentally 'with it'. That's important to me, particularly after losing my husband who had dementia."
"I FaceTime my daughter daily, pay for my groceries using my phone, and love to use my Google Home throughout the day. My grandkids help me [learn about tech advancements], but I think I'm doing okay for my age!"
If you couldn't tell, the most important thing for Dorothy is her independence. Like many of our home care package clients, she wants to stay at home – where it's comfortable and familiar.
We take great pride in seeing our clients like Dorothy maintain their independence, so they can live happily at home. Thank you for sharing your story with us, Dorothy!
If you would like to know more about LCHS home care packages for yourself or a loved one, we can help!
You can call our friendly team of home care package consultants on 1800 242 696 – they live and breathe aged care services, and can cut through jargon and complexity. Alternatively, you can fill out the form below.
Don't call us – we'll call you!
Submit your details, and we'll give you a call when it's convenient for you. Of course, you can always call us on 1800 242 696.