News & Media
22 January 2018
A guide for first-time school parents
We've put together a few things to remember, which will help you and your child have a cracker of a first year at primary school.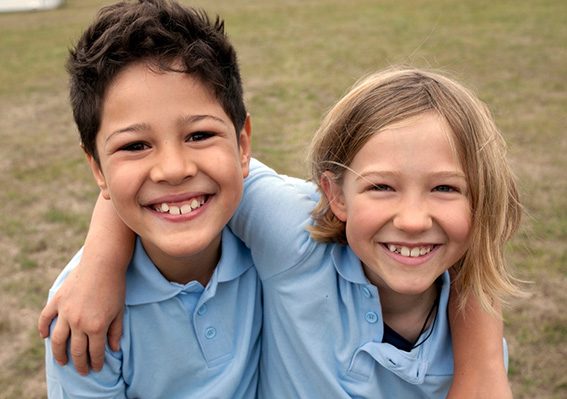 If you're a parent who is sending their child off to school for the first time this year, it can be daunting. It's normal to feel anxious or sad, but try to remember this is an exciting time for your little one.
We've put together a few things to remember, which will help you and your child have a cracker of a first year at primary school.
Most importantly, try to relax and have fun while watching them grow, learn, make new friends and find independence. You and your little one will have a ball.
Stay on top of the important stuff
You don't want to forget important dates like parent-teacher interviews or have your child miss out on excursions or sports events, so 'like' the school's Facebook page, regularly check the website and subscribe to any newsletter or calendar system. Also, have a habit of asking your child if there are any letters in their backpack. They'll soon learn to hand you important notes, but this will take time.
Make friends
Arrange play-dates with families whose children will be going to the same school as your child, so they know other kids before they start. Also, make an effort of getting to know other parents as well as the teacher and support staff. Socialise at drop-off and pick-up times – it helps to stay informed and supported.
Ask questions
Teachers, support staff, the principal and other parents are all great people to tap on the shoulder if you've got a concern or simply want to know how your child is going. Attend parent-teacher interviews; join the parent committee and show up to their events/meetings. These will help you understand how school works, know what's going on and have a say on the bigger issues.
Help out
Want to be involved in your child's education? Keen to play a role in their enjoyable school experience? Put up your hand for reading sessions, canteen duty, school excursions or fundraising activities. The kids love seeing you around and the school loves the help. It's a win-win situation.
Set a routine
To avoid chaos, stress and mayhem during the school week, set aside 30-40 minutes each night to prepare for the next day. This can make mornings a whole heap easier. Also, spend time with your child while making their lunch and packing their bags – they'll eventually take ownership of these tasks as they find their independence. Before school starts, practise getting ready and write up a check-list so you and your child know what to expect come day one. Sooner or later you'll find a routine that works for you and your family.
Be prepared
A typical school bag should contain a hat, a spare change of underwear and pants in case of accidents, a lunchbox filled with healthy, nutritious food, and a bottle of water. Remind your child to put their hat and lunchbox back in their bag after recess and lunchtime, and to take their drink bottle with them throughout the day so they're staying hydrated while playing and learning.
Some last things to remember:
Stay interested –  ask your child and teacher about their day
Label everything – you never know when something will go mysteriously missing
Ease into the activities – try not to overwhelm your little one with after-school activities at the very beginning. They're going to be tired as they get used to school life, so give them time to settle in before they begin swimming, basketball, piano etc.
Keep your cool – accidents will happen and your little one may come home upset one day. Just talk to the teacher and/or other parents to get the bigger picture before storming into school.