News & Media
11 June 2019
Elder abuse – what is it, and how do you respond?
Our Elder Abuse Prevention and Response Liaison Officer, Jacqui Francis-Kelly, has helped piece together what elder abuse is, how to identify it, and what steps people can take if they believe it is happening.
What is elder abuse?
Elder abuse is a form of family violence. It causes harm to an older person, is carried out by someone they know and trust, and can be physical, social, financial, psychological or sexual. Elder abuse may include mistreatment and neglect.
Elder abuse does not discriminate – it can occur to anyone of any gender. It can escalate as certain behaviours occur gradually over time, making it difficult for people to recognise. Many older people do not disclose their experience of elder abuse due to complex issues such as fear, shame, ageism, concern of losing relationships or entering residential care prematurely.
Sometimes people don't know what they're doing is elder abuse and sometimes people are very clear on what they're doing.
Regardless, there is no excuse.
Who is at risk of elder abuse?
Elder abuse is a growing problem. Our population is ageing; a lot of society's family structures have changed; families are experiencing more financial pressures that may add stresses onto their family dynamics.
We know up to 14 per cent of older people experience elder abuse. It occurs to people of all genders, cultural backgrounds and lifestyles.
There is no clear reason for abuse, but key risk factors include:
History of family violence
Carer stress
Dependency
Family conflict
Isolation (for both the older person and their abuser)
Mental health of the abuser
Cognitive decline (for example, when the older person experiences dementia)
Addictive behaviours of the abuser
Types of elder abuse
Elder abuse can take many forms, and older people often experience more than one type.
Emotional (or psychological) abuse: Using threats, humiliation or harassment to cause distress and feelings of shame, stress or powerlessness.
Neglect: Failing to provide the basic necessities of life such as food, water, medications, medical care, warmth and dental care, either intentionally or unintentionally.
Financial abuse: Using someone's money, property or other assets illegally or improperly, or forcing someone to change their will or sign documents. This is the most common form of elder abuse.
Physical abuse: Inflicting pain or injury by hitting, slapping, pushing, choking, using weapons, driving dangerously, abuse of pets, destroying property, sleep and food depravation, rough handling, force feeding or using restraints such as locking someone in their room.
Social abuse: Preventing contact with family, friends or social support services, withholding mail, not allowing phone calls or listening to calls, preventing involvement in religious or cultural practices.
Sexual Abuse: Any sexual activity without consent, inappropriate touching, rough or inappropriate cleaning or treatment of an older person's genital area, viewing sexually explicit material or making sexually explicit phone calls in the presence of an older person without their consent.
Give me an example…
Picture a man whose adult son moves back home and exposes him to drug abuse and aggressive verbal attacks. Now think of a woman who sells her home and moves in with her daughter's family, only to find she's expected to do all the cooking, cleaning and child-minding for the extended family, and to pay for their renovations. Elder abuse is also experienced by the woman whose husband has been violent and controlling during 50 years of marriage.
These are all examples of elder abuse and – just like other forms of family violence – these are often hidden. Older people experiencing the abuse can be reluctant to report or speak about it and may feel shame or guilt about the behaviour of their family or friend. The older person may even feel the need to protect their abuser because of their relationship, or they may be depend on the abuser for personal care, housing or transport.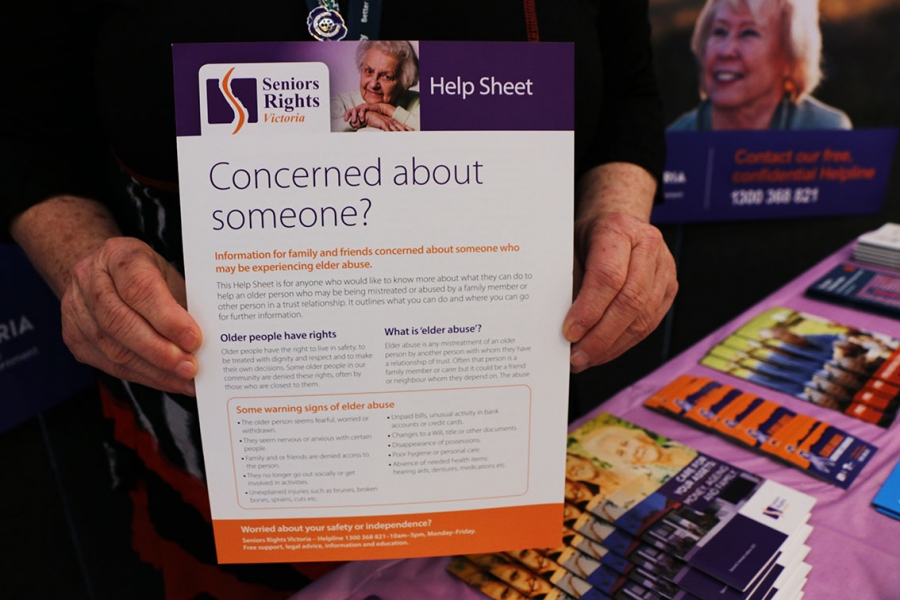 WITHDRAWN BEHAVIOUR, SOCIAL ISOLATION AND POOR HYGIENE ARE WARNING SIGNS OF ELDER ABUSE.
How older people can increase their safety
No matter how old a person is, they have exactly the same rights as they did when they were younger. There should always be the assumption the older person is able to make their own decisions, unless this is formally proven otherwise (through a medical assessment).
Our advice for older people is to:
Stay active in the community and keep a network of friends, neighbours and family members who you trust and who support you.
Seek independent advice about financial, living and medical arrangements. Don't make decisions or sign documents until you have all the information you need.
Keep in touch with community health workers and your medical practitioner.
If you fear abuse or you are experiencing abuse, seek help.
How do I respond?
When you suspect or know an older person is at risk or experiencing abuse, you can talk to them about your concerns if it's safe to do so. Listen to their worries and validate their experience. Reassure the older person the abuse is not their fault and there is help available. Contact a support service to learn more about what you can do and what options the older person has. Do not confront the suspected abuser or perpetrator – this may put the older person at greater risk.
Who can I call?
If you suspect elder abuse is occurring and you need advice about your own situation or that of someone you know, call:
Triple-0 in an emergency.
Safe Steps, a 24/7 Family Violence Response Centre, on 1800 015 188.
Seniors Rights Victoria for information, advocacy and free legal advice on 1300 368 821.
Office of Public Advocate on 1300 309 337.
With Respect, a family violence support service for people who are lesbian, gay, bisexual, transgender, intersex or queer, on 1800 LGBTIQ (1800 543 847).
InTouch, a family violence service for people from multicultural backgrounds on 1800 755 988.
The Orange Door, a Family Violence Support Service, on 1800 319 354.
Men's referral service on 1300 766 491. This is a support service for men who use controlling behaviour towards a partner or family member, and a support service for men who are victims of abuse.