"I don't want a home care package. There are people that needed it more than me," Marie told her daughter Faye when she tried to convince her mother to get help at home.
Earlier this year, Marie lost her husband of almost 50 years. Bryan fought multiple cancers over a 14-year period and Marie was his primary carer during that time.
When things at home became hard for Bryan, they decided to apply for a home care package.
"Bryan was on a level 4 home care package and it was a big help to us. He got things like lawn mowing and personal care to help with showering. But the biggest support was having someone come and sit with him and keep him company so I could take a break or run some errands," says Marie.
"I knew he was in safe hands so I felt comfortable leaving. It gave me the break I needed to be a better carer for him."
With Bryan's condition declining, Marie hadn't considered what might happen to that support once he passed.
"Faye harped on about getting a package for me when Bryan started to deteriorate. I was reluctant at first but wish I had listened sooner because it's been a massive help," says Marie.
"I've always worked hard my whole life. Whether it was working 7 days a week at my day job, caring for my two children or more recently caring for my husband. The idea of getting a 'handout' was daunting to me."
This is a sentiment we hear a lot among our clients. They often tell us they grew up in a time when you didn't take handouts and worked hard for what you wanted. But sometimes, opening yourself up to a little help is the best thing you can do.
"I just can't physically do what I used to do. That's the thing about ageing I guess. The lawns became too much, and cleaning the house takes me a lot longer by myself. I don't think I'd be able to keep on top of it anymore."
"The home care package hasn't stopped me from doing things around the house. I still do what I can to keep active, but it helps me keep on top of things so I don't have to worry. It's real peace of mind because the support workers are fantastic, very reliable and most importantly, consistent. I'd be lost without my package."
Marie has a beautiful family who love her and are always willing to help, but she never wants to be a burden on them: "I want them to live their lives and not have to give up time to help me. Knowing I can take that off them and get it through the package makes me feel better.
"I can't recommend LCHS more. I have all the support I need to help me stay living in my home. I have many great memories here with Bryan and my grandkids. It's nice to know I can stay here where those memories are."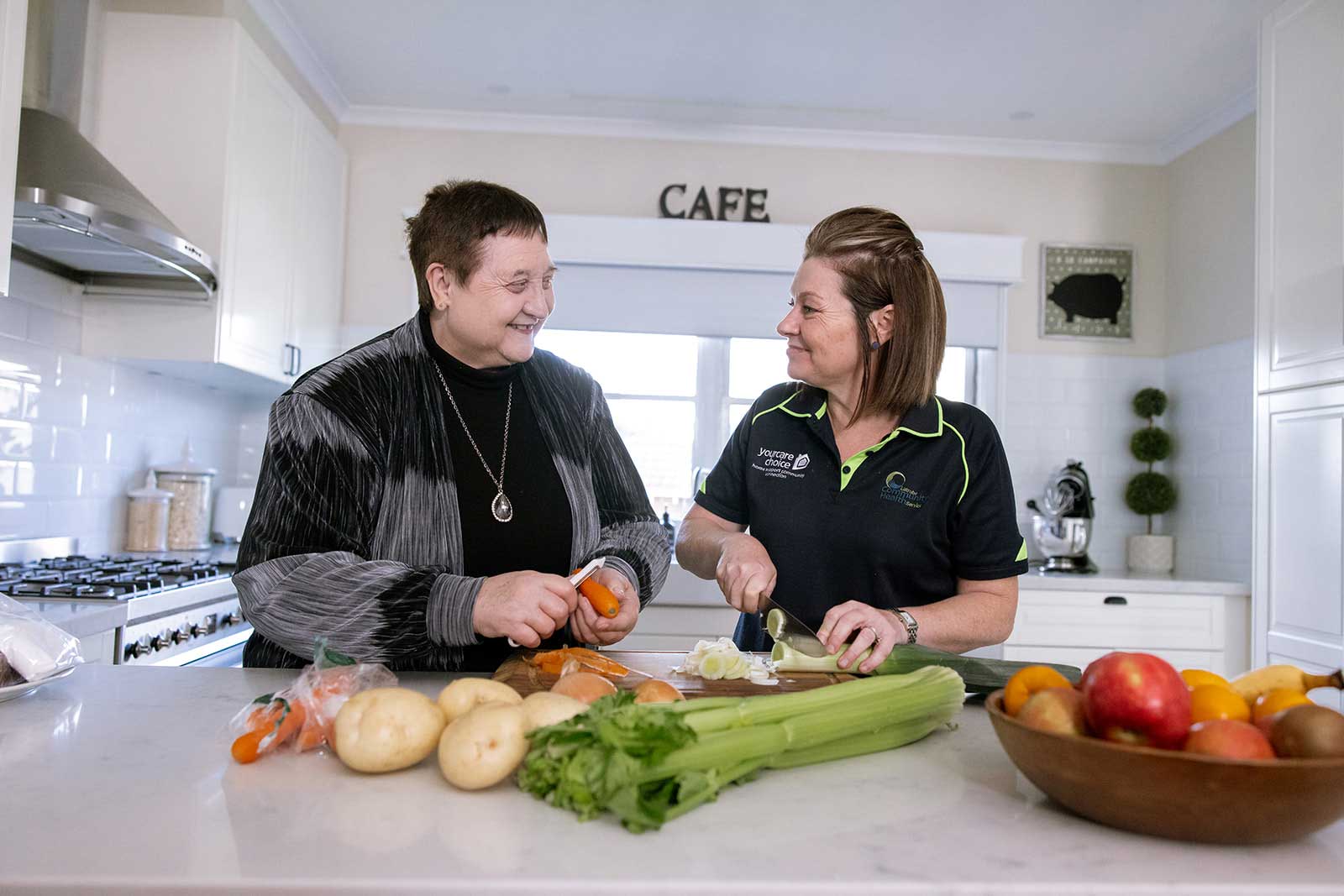 Asked what she would say to someone who may feel how she did before getting support, Marie says: "Time takes its toll and I know it can be frightening to accept help, but it doesn't invade your life like you think it might. If anything, it gives your life back."
We couldn't agree more, Marie. Thanks for sharing your story and showing us that sometimes accepting a helping hand is the most important thing you can do for yourself.
If you would like to know more about home care packages for yourself or a loved one, let's talk. Call us on 1800 242 696 or fill out the form below.
Don't call us – we'll call you!
Submit your details, and we'll give you a call when it's convenient for you. Of course, you can always call us on 1800 242 696.