No matter what town you're in there's a playful corner for the little ones to burn off energy, explore and let their imaginations run wild!
1. Newman Park - Peterkin Street, Traralgon
Image courtesy Gippsland Model Engineering Society
This sprawling park is the perfect place to unpack a picnic and settle in for the afternoon. There's a train-inspired section that will enthrall young conductors – complete with motion-triggered sounds. The flying fox is sure to get a good workout, and there are some trickier sections of the playground that will keep older children busy.
Newman Park is an access all-abilities playground, with a liberty swing (the key needs to be collected from the Latrobe Visitor Information Centre).
And every fourth Sunday of the month from February to November (when the weather allows) miniature train rides are available
Suitable for: Toddlers, pre-schoolers and school-age children.
2. Morwell Town Common - White Street, Morwell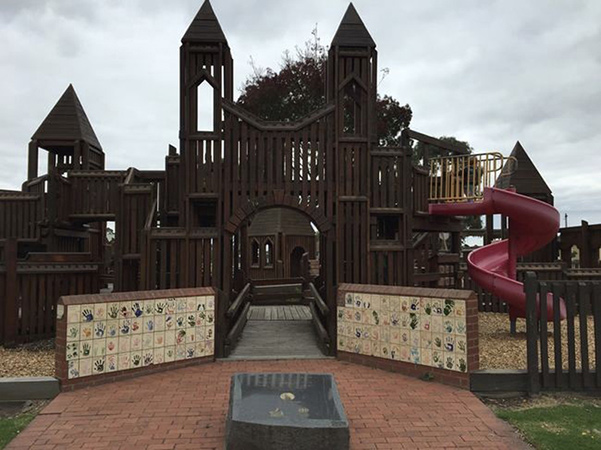 Image courtesy Visit Latrobe City
Known as the 'wooden park', the Morwell Town Common is undoubtedly the town's most popular playground.
Rising like a wondrous wooden castle, the main area of the playground has ramps, turrets, slides and ladders that will have the kids squealing with delight.
There's also a newer section that gives children more of a sensory experience, with musical instruments and a maze. A variety of swings for children of all abilities are also available.
Suitable for: Toddlers, pre-schoolers and school-age children.
3. Apex Park - Cnr Mitchells and Waterloo Roads, Moe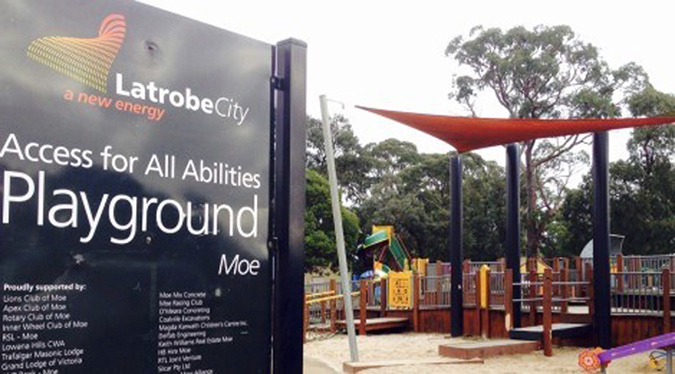 Image courtesy meetoo
The kids will be spoilt for choice when they're unleashed on this amazing park – from musical play equipment to wooden horses and balance beams.
There's also a flying fox, and couple of heart-stopping slides to choose from. This all-abilities playground also has a liberty swing.
The park is spread over a large area, so make sure you have your running shoes on – you'll be hard-pressed keeping up with younger children! There are great BBQ facilities too, which makes this park really popular for family gatherings and birthday parties.
Suitable for: Toddlers, pre-schoolers and school-age children.
4. McIndoe Park - Cnr Turner and Bent Streets, Leongatha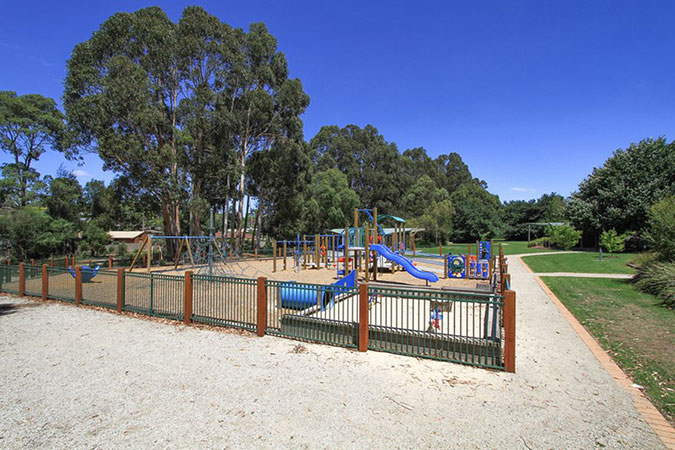 Image courtesy forsalebyownder
A safe-as-houses park for little ones, this fully fenced park is surrounded by shady gums and green lawns.
There's plenty for young kids to climb, jump and conquer, with block steps, a fireman's pole, small slide and drum set.
Suitable for: Toddlers and pre-schoolers.
5. Sale Botanic Gardens - Guthridge Parade, Sale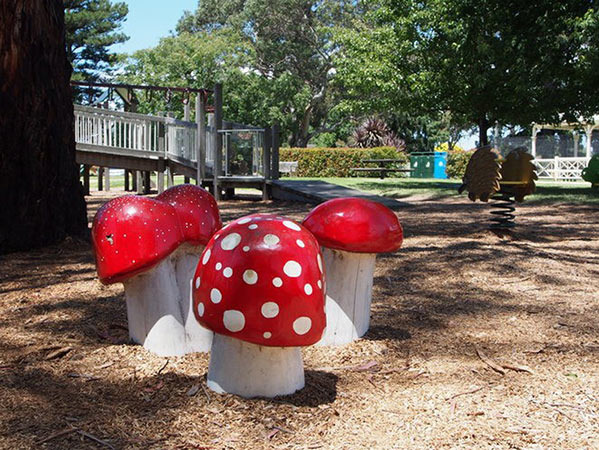 Image courtesy Weekend Notes
One of the most picturesque settings of any Gippsland playground, the Sale Botanic Gardens has a fabulous park nestled into its beautiful surrounds.
The flying fox is always a winner, but there are also some quiet play areas including a sensory garden and a fauna enclosure. It's a fabulous place for play and exploration.
Suitable for: Toddlers, pre-schoolers and school-age children.
6. Patterson Park Playground - Metung Road, Metung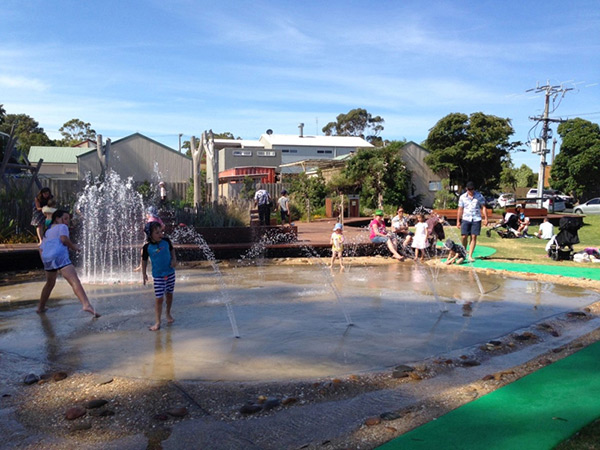 Image courtesy Gippsland Granny
Beautifully revamped in 2015 this stunning park is now a real hub for locals and visitors to Metung. The water play area is the crowning glory!
Designed to fit into the stunning surroundings, the landscaping gives this park a very natural feel with towering gums and native grasses.
Suitable for: Toddlers, pre-schoolers and school-age children.
7. Wyeth-McNamara Park - Ramsey Boulevard, Inverloch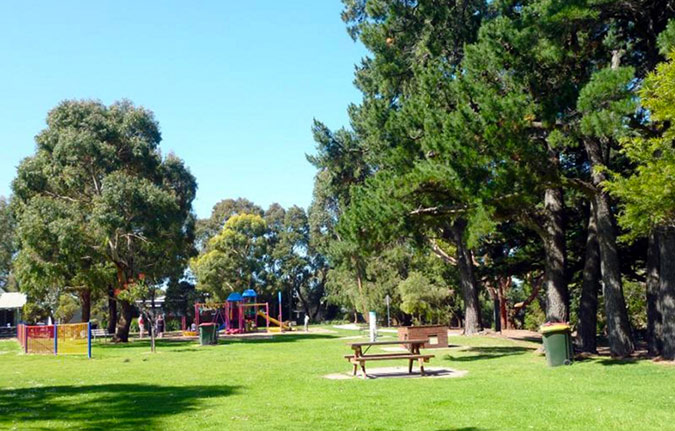 Image courtesy Travel Victoria
No visit to Inverloch is complete with a feed of fish and chips enjoyed at what's known locally as Rainbow Park.
Just a hop, skip and jump from the beach it's surrounded by shade so a welcome relief from scorching temperatures.
Suitable for: Toddlers, pre-schoolers and school-age children.
Bonus - parks recommended by our readers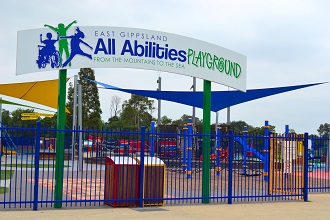 East Gippsland All Abilities Playground – Park Street, Bairnsdale
The East Gippsland All Abilities Park is a beautifully themed playground built with a strong emphasis on creating an experience for people with special needs, but it is open for all to enjoy. With extensive day visitor facilities, including shelters, BBQ's and picnic tables, it's the perfect place for a family day out.
Lakes Entrance Apex Park – Cnr Princes Highway and Marine Parade, Lakes Entrance 
Having re-opened in 2016 with some fantastic upgrades, this park encourages nature-based and imaginative play. It is the perfect park for your little climbers, with an array of climbing structures on offer.
Civic Park – Albert Rd, Warragul 
Completely overhauled in 2017, this incredible park is the perfect play place for locals and visitors alike. With inbuilt trampolines, a wheelchair friendly carousel and even a relaxing hammock in the shade, there's something for the whole family.