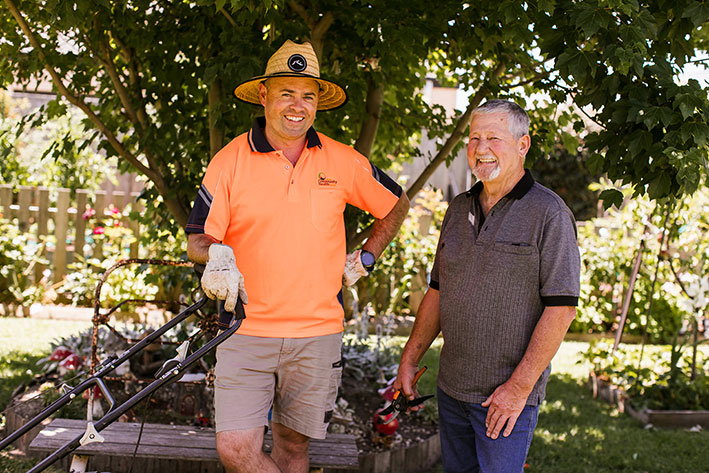 You're in the driving seat
Your Home Care Package should deliver everything you need to live happily and independently at home for longer. With experience and a personal approach, our staff will partner with you to bring together the services and support that are right for you.
Get the support you feel you need, delivered in a way that works for you. Understanding what is important to you is our number one priority. We listen and work hard to deliver a care plan tailored to your individual needs.
We're here for you
We're part of your community. Across metropolitan Melbourne and regional Victoria, our local care advisors understand the challenges and supports unique to the suburbs and towns you call home.
We check in, in person, every month to make sure your home care package is working for you. If your needs change, or something isn't working out the way you'd hoped, we will work with you to get things back on track.
Help is only ever a phone call away! Our care advisors are available around the clock. 24/7 emergency phone access provides you and your family peace of mind, knowing there will always be someone on the other end of the line.
You can rely on us
For more than 20 years Latrobe Community Health Service has delivered home care services to thousands of Victorians. We're big enough to support you, and small enough to offer the personalised one-to-one service you expect. You can rest assured that we will always provide advice and support with your best interest in mind.
Our clients stay with us because they trust us. We make sure those delivering services to you meet our strict criteria for exceptional service and competitive pricing and have all the appropriate checks and insurance. That means you can be confident those providing your care will do so safely, compassionately and for a reasonable price.
No surprises!
We take the hard work out of managing your services. We've simplified our fees and the way we deliver services to you, making them easy to understand.
When you enquire with us, we provide you with our full pricing schedule and all your expenses will be explained upfront. That means no hidden costs and no unexpected extra charges or bills in the mail.
Speak to our friendly Home Care Package team to find out how Latrobe Community Health Service can work for you. Call 1800 242 696 or request a call today at a time that suits you.