How a wound care nurse can help you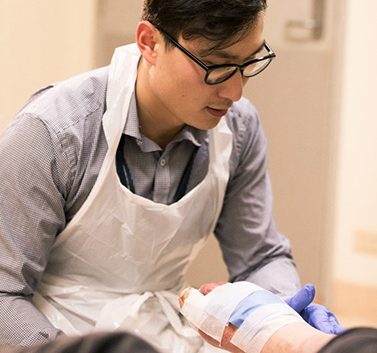 A deep bruise, burn, ulcer or skin cancer can cause a slow-healing or recurring wound which could grow worse over time.
Known as chronic wounds, these wounds need special care. This is especially true in the elderly or for those with medical conditions like diabetes.
Wound care nurses at Latrobe Community Health Service specialise in treating chronic wounds. They will assess your wound and discuss a treatment or management plan with you. They can also change your wound dressings and check the wound to make sure it is healing.
Availability
This service is available on Mondays, Wednesdays and Fridays from 8.30am to 4.30pm.
If clients are unable to travel, the wound care nurse can visit you in your home. In-home services are available seven days a week from 8am to 6pm.
Find out the cost and eligibility criteria.
Who is eligible?
People who live in Latrobe City.
People who are eligible for home and community care (in Latrobe City or elsewhere in Gippsland).
How much does this service cost?
The wound care service costs $10.40 per visit for Concession Card holders.
If you don't have a Health Care Card or Concession Card, a higher rate – up to $157.50 per hour – may apply.
We will provide basic dressings, but some special dressings will be at your cost. We can help you buy these dressings at a reasonable price through a supplier.
Phone Latrobe Community Health Service on 1800 242 696 to learn more.