Infant and child development (0 – 7 years)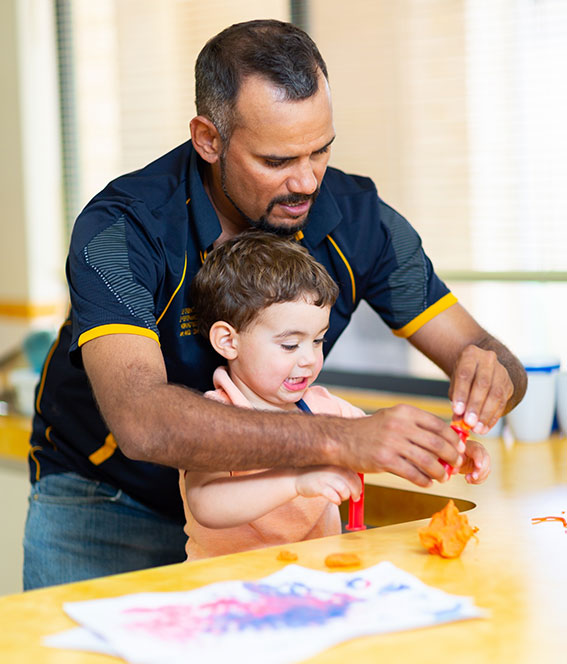 Our Children's Service team of allied health professionals (speech pathologists, occupational therapists, and allied health assistants) offer advice and support for families who have a young child experiencing difficulties with aspects of their development.
We can help if your child:
has difficulty with talking, being understood by others or following instructions
has trouble using their hands for tasks such as opening containers, drawing and handwriting
has social or emotional behaviours that concern you
is overly sensitive or under sensitive to touch, taste or sound
appears clumsy or uncoordinated
Assessments are completed and where suitable, children and their families will be involved in a group program rather than individual sessions. These generally run for four to six sessions. A number of groups run across our Traralgon, Morwell and Moe locations.
Infant and child nutrition
Our Children's Dietetics team can assist families and children experiencing fussy eating, weight management and faltering growth (0-2 years). The dietitian provides a tailored service depending on the specific needs of the child. This may include one or more of the following: assessment, group program, information sessions, individual nutrition counselling, and support sessions. For other concerns not listed above, please visit Nutrition and Dietetics.
Our Children's Dieticians also provide some outreach programs.
Children's continence
Many children experience continence challenges and help is available. Our children's continence service provides support for people aged 2 to 17 years. We can provide advice and support for bed wetting (six years and older), daytime wetting (four years and older), constipation, soiling / loose bowels, and difficulties.
Our children's continence service mostly provides support for individuals and their families in the Latrobe Valley. A continence advisor provides assessment, management and education of issues related to continence. The continence service has limited scope for outreach support and education.
For more information on continence services visit Continence.