With the COVID-19 pandemic, many of our favourite sports and physical activity options are unavailable. Fortunately, we can still walk and run close to home – a free and simple way to get your recommended 30 minutes of exercise each day.
We cannot predict how long COVID-19 will last or what restrictions will be in place throughout our challenge. The good news is you can walk, jog, run or workout at home, and share your step count with friends, family and colleagues virtually!
So, let's get stepping!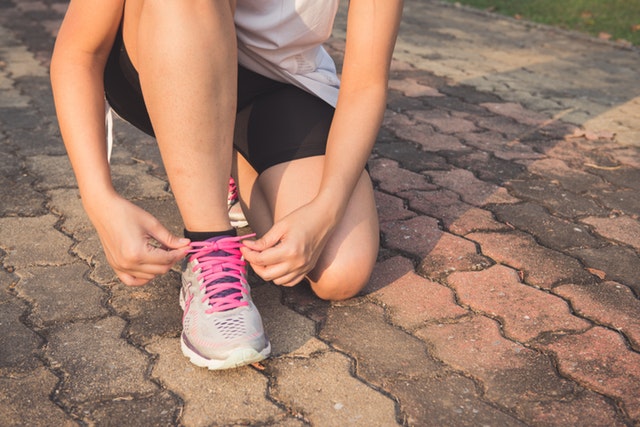 Are you up to the challenge?
One in every two Victorian adults does not get enough exercise. We're hoping to change that stat by encouraging people to make movement part of their everyday lives. You can do that by taking on the Latrobe 10,000 Steps Challenge.
The Latrobe 10,000 Steps Challenge aims to: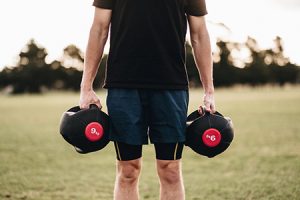 Increase awareness of physical activity levels
Increase employees' physical activity levels
Promote movement at work and at home
Be a lot of fun!
Here's what you need to do:
Register your workplace* and encourage your workforce to sign up in teams** of 6-10 people.
Compete against teams from other workplaces.
Aim to get the highest step count to be awarded the prestigious 'golden sneaker' trophy.
Get involved in the fun and be in the running for great prizes.
*PLEASE NOTE: We're opening the challenge up to sports clubs and community groups this year! So follow the same steps to register your organisation, and we'll add you to our challenge!
**If you want to join the challenge, but don't have a team, we can help! Just fill out the workplace registration form under the 'Be in it to win it' section on this page and tick the box 'I don't have a team'. We will find a team for you so you can still participate in the challenge.
Take up the challenge
The 2021 Latrobe 10,000 Steps Challenge runs from Monday, 18 October until Sunday, 21 November.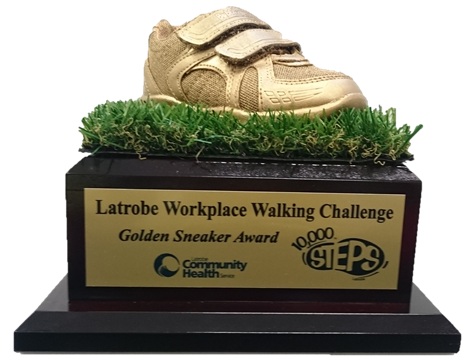 Be in it to win it!
Prizes, prizes, prizes!
There are a range of great prizes to be won, including the prestigious 'golden sneaker' trophy, which is awarded to the highest stepping team.
We have some amazing prizes this year, including weekly prizes and encouragement awards! Keep an eye out for announcements regarding the grand prize soon.      
To find out more, email health.promotion@lchs.com.au
Join the private Facebook group
Stay motivated by joining the 10,000 Steps Challenge Facebook community for 2021. Join the group here.
Within the Facebook group we will share tips and tricks for hitting your step count daily, weekly ladder updates and our competition winners. Chat to other competitors and share photos of your walks, all in one safe space.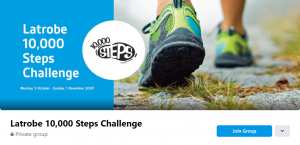 Helpful Resources
Motivate your workplace! Download the Latrobe 10,000 Steps Challenge posters below, and add them to your intranet or an all-staff email!
Step Counting Apps
You can log your steps by manually entering them on the 10,000 Steps Website. You will need your email address and password to login.
You can also log steps using the free 10,000 steps app for iPhones and Android, available from the app store. If you have a Fitbit or Garmin, the 10,000 Steps website allows you to sync your device to the site. There are lots of other free step tracking apps available – search on your phone and download an app that suits you.
Here are a couple of other options:
Workplace resources
Achievement Program
An effective workplace health and wellbeing program can improve the health of employees and have a positive impact on business productivity. Evidence shows the most successful and sustainable health and wellbeing initiatives are those that use a whole organisational approach.
Interested in being part of the Achievement Program for workplaces? 
To join other Victorian workplaces in creating healthier environments, visit: www.achievementprogram.health.vic.gov.au
For those workplaces already registered to the Achievement Program, participating in the Latrobe 10,000 Steps Challenge contributes towards the Physical Activity Benchmark.